Outstanding High Technology and a High Quality of Life Call The Plymouth Community Home
High technology, international corporations, a tremendous quality of life, easy access to freeways and close proximity to air travel is the reason many businesses choose the Plymouth Community for their location.
Being just 15 miles from Ann Arbor, the home of the University of Michigan, the Plymouth community is part of one of the finest high technology corridors in the country. Our many industrial parks are filled with major corporate research facilities from the worlds leading companies like Isuzu and Bosch. Additionally, Plymouth Township, where many of these locations reside, is an outstanding partner with tax incentives and services to ensure businesses success.
This high quality workforce creates an exceptional market for retail and services in the community.
Residents typically have high average per capita incomes and levels of education, which positively contributes to the outstanding consumer base of the Plymouth market and it's surrounding communities.
We invite you to explore more about the Plymouth Community on this web site and talk with us about the advantages of locating your business in the Plymouth Community.

Minutes from the freeway and close to Metro Airport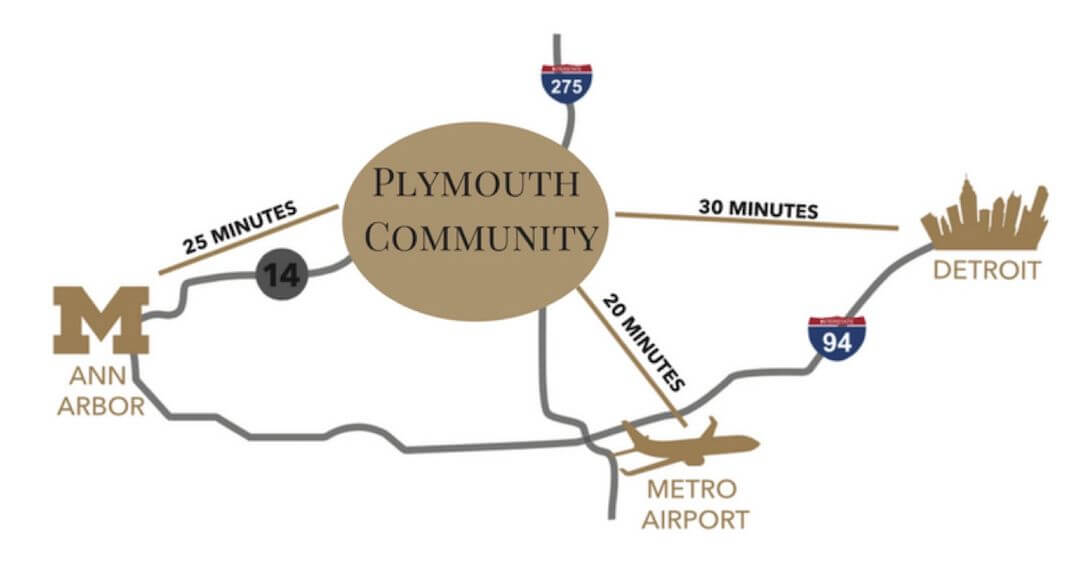 The Plymouth Community is ideally located in the western suburbs of Metro Detroit and is just 25 minutes east of Ann Arbor. The industrial parks have rail lines running through them and they are located close to the M-14 and I-275 Freeways. These freeways intersect with most other major highways in the region. The Plymouth Community is also located just 15 miles from Detroit Metropolitan Airport with daily flights around the world. As one of the nation's top airports, they serve as a hub for Delta Airlines.
Just 10 Miles From Willow Run Airport!
The Plymouth Community is located just 10 miles from Willow Run Airport who serves cargo, corporate and general guests. The Willow Run Airport handles 200,000,000 lbs. of cargo annually.
Easy Access to Rail
CSX Plymouth Diamond share trackage four class 1 railways that serve Michigan. The Plymouth division connects Detroit to Western Michigan and Chicago.
Where International Blvd. Meets Technology Dr.

If you were to pull out a road map of business in Southeast Michigan, you would find the industrial parks of Plymouth Township sit at a corner best described as International Blvd and Technology Dr. The Plymouth community is part of a high technology corridor that sits just 16 miles east of Ann Arbor and 25 miles west of Detroit. Much of the highest-level automotive research in the world takes place in facilities that fill the industrial parks. With companies like Isuzu, Johnson Controls, Bosch, Tower Automotive, TRAM, Freudenberg NOK, BREMBO, and many others the Plymouth Community is a thriving center of research and development.
Also, many specialty and unique manufacturing companies find these parks to be conducive for their businesses, like Fuyao Glass America, one of the world's largest automotive glass suppliers.
While metro Detroit is the Automotive Capitol of the World there are also many non-automotive facilities in Plymouth including companies like Aunt Millie's Plymouth Bakery and Comcast Cable.
Here is why so many of these companies choose the Plymouth Community:
Access to Technological Labor
With Ann Arbor, the home of the University of Michigan, sitting just 16 miles to the west the high technology labor pool that is concentrated in the Plymouth area of southeast Michigan is outstanding. The community also offers a high quality of life and outstanding school system that makes the area attractive for professionals and technology workers. There are even a significant number of Asian and Indian students in the schools making them attractive and comfortable for the many overseas families who come here for work. Just in Plymouth and Plymouth Township, 42% of the workforce have bachelors degrees which is 18% higher than the national average.
Outstanding Energy Supply and Utilities
The area is served well by DTE Energy for Electricity and Consumers Power. They are companies that have served metro Detroit for many years and understand the needs of industrial areas. As part of the Western Townships Utilities Authority the area is served by the Ypsilanti Community Utilities Authority treatment plant, guaranteeing the availability of full sanitary sewer services.
Ease of Access and Multiple Transportation Alternatives
Over three quarters of land developed for industry is located just 2.5 miles off M-14 (I-96) and I-275. These freeways can lead you to Ann Arbor, Detroit, and all of metro Detroit as efficiently as any location in the region. The industrial parks are also intersected by the CSX rail system and for those needing to fly, the Detroit Metropolitan Airport is just 15 miles southeast with daily flights available around the world. Also, Mettetal airport is available in nearby Canton Township for general public use aviation.
Supportive Government Policies Create a Partnership for Success
The Township has adopted zoning and planning standards that accommodate high-tech, light industrial and research facilities. The Township will move efficiently to quickly help developments get started or expansions happen rapidly. Wayne County also actively offers incentives and other services to make the area even more enticing.
High Quality of Life!
The community also offers a high quality of life and outstanding school system that makes the area attractive for professionals and technology workers.
Data for Plymouth Township & City of Plymouth, Michigan

Population:
Plymouth Township: 27,938
City of Plymouth: 9,370
Total Population: 37,308
More Data:
To get the most recent demographic information on Plymouth Township and Plymouth, you can use the following link for census data and projections from the Southeast Michigan Council of Governments (SEMCOG). You can select our communities demographics by clicking on the down arrow in the right corner:
Plymouth Township & The City of Plymouth: semcog.org
Well Educated and Technologically Savvy Workforce

Just 15 minutes east of Ann Arbor, the Plymouth area has a high concentration of some of the nation's top technology talent. With 29.8% of the tech workforce holding a bachelors degree or higher, the community far outpaces the national average of 24% college graduates. Many technology-orientated companies choose Plymouth for the quality of the workforce.
Local Education and Learning
A high percentage of graduates from the three high schools in the district do go on to attend college. The Plymouth Canton Community School district is the fourth largest district in Michigan with almost 19,000 students. With an outstanding quality of life and a large well-educated labor pool in this region, many employers find that the Plymouth Community has an outstanding available workforce.
Workforce Training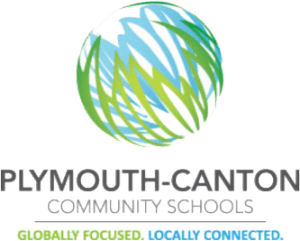 The Plymouth Canton Educational Park includes a variety of academies to prepare students for their future. One of these academies is the STEM Academy, which includes Biomedical Science program as well as a Path Ways to Engineering program. Along with the STEM Academy there is the Career and Technical Education (CTE) programs, International Baccalaureate (IB) Diploma Program, PRIME Manufacturing Skilled Trades Program, and the Art Academy.
---
Schoolcraft College

Schoolcraft College only a few minutes away from the Plymouth Community offers a variety of programs as an affordable community college to prepare students for successful careers, like skilled trades, while providing the foundation for those going on to four-year degrees.
---
Nearby Colleges & Universities

Plymouth Community Chamber of Commerce: (734) 453-1540

Schoolcraft College Business Resources
Michigan Small Business Development Center (MI-SBDC): 734-462-4438
The Michigan Small Business Development Center (MI-SBDC) at Schoolcraft College provides consulting, training and research to assist small businesses to launch, grow, transition and innovate. One-on-one meetings with experienced business consultants are available to support small business owners in building viable business plans, establishing strategies for growth and survival, and generating realistic financial goals.
As a satellite office of the SE Michigan Region, the MI-SBDC at Schoolcraft College serves businesses located in western Wayne and southern Oakland counties.
Easy Access to Applications and Documents for Plymouth or Plymouth Township

This document center provides what you will need for setting up a physical location for you business.
Documents Include
Building Permits, Zoning Board of Appeals Application, Sign Permits Application, Property Transfer, Mechanical Permits, and others. They are organized into specific categories that you can choose as needed.
Please make sure you determine if your business is located in the City of Plymouth or Plymouth Township before downloading and submitting forms.
Plymouth Township: plymouthtwp.org
City of Plymouth: City of Plymouth Documents
Community Development: 734-453-1234